Wall Of Fame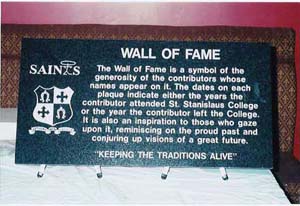 Visualise
- A concrete wall surrounding the St. Stanislaus College ground.
- The wall painted a stark WHITE.
- Inserted and sealed in the concrete blocks, 3/4" thick, highly polished BLACK granite.
- Engraved in WHITE in each piece of granite for posterity, the name of the contributor to the wall.

See
- Rows upon rows of these highly polished BLACK granite inserts growing year after year.

We believe that each and everyone of you who have passed through the portals of OUR glorious Alma Matter will want.

Your Name On The Wall
Imagine
- Being there.
- Walking up to the Wall.
- Viewing your personally inscribed block.
- Standing back, viewing this work of art and reflecting upon your many memories of SAINTS and the stalwarts of commerce, industry, education, law, literature and of course politics, that this great institution has produced...and...
- BEING PROUD of your accomplishments!
Donor Options:
| | |
| --- | --- |
| Option | Donation Amount |
| Cornerstone Donor | $1500 CND or more |
| Leadership Donor | $750 - $1499 CND |
| Major Donor | $450 - $749 CND |
| Supporting Donor | $300 - $449 CND |

*** Donor Funds will be used for improvements to the school in Guyana.

** CONTACT: Errol Chapman | Email: echapman@st-stanislaus-gy.com
The St. Stanislaus College Alumni Association Toronto has approved $35,605.35 CAD that includes
the Barbados Association $8,100 CAD for the "WALL of FAME" project in Guyana. Release of funds is subject to:

Receipt of Plans


Receipt of schematics and approval of placement of plaques

Receipt and approval of relevant invoices for the project"
The project was conceived in the early 1990's as a method of raising funds on an on going basis with
annual campaigns.

Our initial campaign raised $42,600CAD (Barbados $8,100, Toronto $34,500) The construction cost of the
WALL is estimated at $35,600 (CAD) excluding the cost of the plaques. The whole idea is to provide the
College with financial support by utilizing the excess funds raised (over the construction cost) for other
projects as the College.

The initial construction will consist of a 92' concrete block wall on which the plaques will be placed and
the balance, a chain link fence will surround the entire property.
Each plaque measuring 9" wide x 3 ½" high is a ¾" thick piece of highly polished, solid, black granite with
the contributors name and either the years he/she attended Saints or the year he/she left Saints' and an
artistic border sand blasted 1/8" into the granite and painted in white. Imagine the longevity.
Dozens of present/past Executive members of the Barbados, Toronto and Guyana Saints' Alumni Associations have spent hundreds of hours getting it to this point. It was not easy. Notable participants
include Albert Rodrigues (architect), Ken Khan (President, Barbados chapter), John Lewis (engineer), Joe
Reis (project coordinator) and Stan Gonsalves (engineer). Dozens of others are still "on board" pushing the
project. And others are coming on board e.g. Chris Fernandes who is now the driving force behind the
construction of the wall.

For the thousands of Saints alumni who have not yet made a contribution, this is your final opportunity to
become a FOUNDING MEMBER of the WALL of FAME. Give generously so that you will be remembered as Saints alumni for years to come. (Your cheque must be received by January 31, 2004)
The next fund raising campaign to add names to the WALL will include an increase in cost of a plaque to cover the increase construction costs over the last six years.

Come on Guys and Girls - BE A FOUNDING MEMBER by adding your name to the 90+ contributors NOW.
Call, write, e-mail us for a full colour 25 ½ " x 11" Wall of Fame brochure (folded 8 ½" x 11") which
provides great detail.


Wall of Fame Progress - August 2004


Wall of Fame Progress - June 2004


Wall of Fame Progress - April 2004
The following is a list of contributors.


(please check the spelling of your name and provide the year/s where needed)




Cornerstone Donors

Years in Saints / Year Left

Chapter

Andre Periana
1965-1970
T
Peter Fernandes
1948-1954
Lionel Sewchand
1970
T
Richard Harford
1956-1962
T
Brian Ramphal
1972-1977
T
Des Jardine
1962-1967
T
Keith M. Seaforth
1959-1964
T
Paul A. Crum-Ewing
1943-1950
T
William P. D'Andrade
1928-1936
T
Cecil F. De Caires
1934
B
Geoffrey De Caires
1954-1962
B
A. Rupert De Castro
1954-1959
T
Gerald De Freitas
1952-1957
B
Peter De Freitas
1958-1962
B
Bernard Friemann
1960-1965
T
Vibert Lampkin
1944-1952
T
Leslie Pereira
1953-1958
T
L.A. Bunty Philips
1950-1958
T
Joesph Reis Sr.
1941-1946
T
Joesph Reis Jr.
1965-1972
T
Peter Rodrigues
1958
T
Lionel Sewchand
1957-1962
T
Douglas A. Thompson
1944-1948
T
Errol Campbell
T
St. Stanislaus College Alumni Association Toronto (Founded 1993)
T


Commitments were given to these generous contributors that their plaques will surround the 32" x 24" cornerstone.
| | | |
| --- | --- | --- |
| Leadership Donors | Years in Saints / Year Left | Chapter |
| Keith Arno | 1958 | T |
| John D'Andrade | 1969 | T |
| Brian Devers | 1957-1961 | T |
| Roger Devers | 1959-1964 | T |
| Derek D'Oliveira | 1961-1968 | T |
| A.Vic Gonsalves | 1950-1957 | T |
| Michael Fung | | T |
| Gamon Gomes | | * |
| Vincent Medes De Franca | 1949-1954 | T |
| Perry Mittleholzer | 1970-1976 | T |
| Neville Devonish | 1978-1980 | T |
| St. Stanislaus College Alumni Association Antigua & Barbuda  ( Founded March 2006) | | |
| | | |
| --- | --- | --- |
| Major Donors | Years in Saints / Year Left | Chapter |
| Bernard Austin | 1967-1972 | T |
| Stan J.R. Affonso | 1946-1951 | T |
| Philip De Cambra | 1951-1956 | T |
| John Gernardo | | T |
| Francis Gernardo | 1969-1974 | T |
| Abelard Reis | 1969-1973 | T |
| Robert Reis | 1966-1974 | T |
| Maurice Serrao | 1956 | T |
| Robin Shaw | 1964-1970 | T |
| Rosanna Shaw | 1983 | T |
| Joseph Schuler | 1960-1962 | T |
| John Vincent | 1943-1949 | T |
| John Yip | 1951-1958 | T |
| Joseph King | 1937-1950 | G |
| Cecil Fitt | 1938-1944 | B |
| Errol Chapman  | 1952-1959 | T |
| P. I. Gomes | 1953-1960 | B |
| | | |
| --- | --- | --- |
| Supporting Donors | Years in Saints / Year Left | Chapter |
| Paul Abdool | | T |
| Bernard Arokium | 1962-1970 | T |
| Malcolm Barrington | 1971-1976 | T |
| Howard Bryce | 1957-1961 | T |
| Bob Cheeatow | 1951-1955 | T |
| John Choy | 1950-1957 | T |
| Maurice Choy | 1965-1972 | T |
| Vivian D'Andrade | 1943-1950 | T |
| Danny Doobay | | * |
| Neil Gonsalves | 1954-1962 | T |
| Hugh Hazlewood | 1958-1964 | T |
| Paul Hazlewood | 1963-1966 | T |
| N.A. Jordan | 1951-1959 | T |
| Raymond Rasul | 1956 | T |
| Mike Persaud | | T |
| Peter Persaud | | T |
| Brian Rodrigues | 1960 | T |
| Ron Sanders | | T |
| Michael Seabra | 1954-1958 | T |
| Tony Sookrah | 1963-1968 | T |
| Howard Welshman | 1954-1960 | T |
| Volville Forsythe | 1946-1951 | B |
| D. Wayne Westmaas | 1954-1958 | T |
| Albert Rodrigues | 1954-1959 | G |
| Leslie Wight | 1947 | T |
| Art Williams | 1965 | B |
| N Ameerally | 1950-1955 | B |
| David Vernon Clarke | 1948-1956 | B |
| Harold Anthony Clarke | 1966-1970 | B |
| Chris D Caires | 1944-1949 | B |
| Carlton I. De Freitas | 1945-1950 | B |
| Bill De Freitas | 1950-1958 | B |
| Clement Derrell | 1963-1970 | B |
| Jeane Everton Forde | 1972 | B |
| Stan Greaves | 1973-1978 | B |
| Andre Greaves | 1967-1969 | B |
| Colin Henry | 1955 | B |
| Kenneth Khan | 1948-1955 | B |
| Mark McWatt | 1952-1957 | B |
| Ivor Wilkinson | 1971-1973 | B |
| Ray Yhap | 1959-1960 | B |
| Hillary De Cambra | 1949-1953 | T |
| Christopher Lewis | 1978-1983 | T |
| William Beckett | 1938-1943 | B |
| Noel Denny | 1954-1959 | T |
| Harold St. C. Rampersaud | 1949-1952 | T |
| Frank B. Delph | 1946-1953 | T |
| Richard H. Delph | 1953-1961 | |
| Chris Cho-Young | 1956-1961 | |
| Prince Veerasammy | 1952-1957 | T |
| Terrence Campbell | | T |
| John P. Lewis | 1954-1961 | G |
| Chris J. Fernandes | 1955-1962 | G |
| Tony Gomes | 1951-1956 | T |
| Bernard Crawford | | B |
| | | |
| --- | --- | --- |
| Teachers' Fund | Years in Saints / Year Left | Chapter |
| Rev. Thomas Lynch | | T |
Appreciation Plaques
The Jesuits:- for founding St. Stanislaus College)
John Fernandes Snr. (aka Honest John):- for his lifelong contribution to St. Stanislaus College
| | | |
| --- | --- | --- |
| Scout Masters | Years in Saints / Year Left | Chapter |
| Rev. Harold Wong S.J.  | 1959-1960 | B |
| Rev. Benjamin Parrot S.J. | 1960-1963 | B |
| Rev. Bernard Darke S.J. | 1963-1979 | B |
| Gregory De Castro | | T |
Legend For Chapters

T = Toronto
B = Barbados
G = Guyana
* = Friend of Saints